Los Angeles, California
World Travel Home Page
Last updated September 2001
All links will open in another window.
Close window to return here.


Sunday, Sept. 9, 2001
We arrive at LAX airport, drive 25 minutes to our Hilton Hotel in Burbank, check in, drop off our luggage, then head straight for Venice Beach.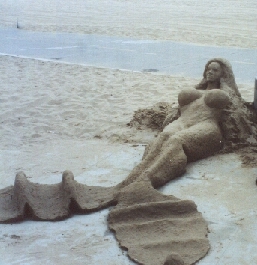 click photo for more on Venice Beach
As we sauntered along Ocean Front Walk we came across this sand sculpture. We also saw musicians, preachers, artists, street performers, tarot card readers, and a lot of skaters and cyclers. This bicycle path on Venice Beach must be a wonderful haven for cyclers. It is a very wide path that allows no pedestrians and it is heavily patrolled.

When we return to our hotel room we hear the following report:
A 4.2 earthquake occurred in West Hollywood, City of Los Angeles California today at 4:59 PM (local time) Sunday, September 9, 2001. This earthquake was widely felt throughout the Los Angeles Basin and in parts of San Fernando Valley. The focal depth of this earthquake was about 4 km, making the shaking most severe in the Hollywood basin. No significant damage was reported. This is the largest earthquake to occur in the Los Angeles basin since 1994.
We were not aware of this happening! Lucky Us!



Monday, Sept. 10, 2001
Ron goes to his teaching location for his first day of lectures and I take the hotel shuttle to Universal Studios.
UNIVERSAL STUDIOS HOLLYWOOD
The wild wild wild west stunt show has the wackiest stuntmen bringing down the house in an action-packed free-for-all. The Blues Brothers don their sun shades and put on a short, but very good performance.
During the Studio Tour, I got a closer look at where and how movies are made. This location has a lot more backlot streets and stages than Universal in Orlando. During the lengthy back lot tour you'll be held captive by Star Wars aliens, Jaws, cross the waters Moses parted as the Red Sea, feel an earthquake, and have King Kong breathe down your neck! I rode the Back to the Future Ride which was really fun and also the tame ET ride.


Sept. 11th and 12th, 2001
Sequence of Events: Tuesday, September 11, 2001
Our hearts go out to those who lost family members and friends on Sept. 11, 2001

Thursday, Sept 13, 2001
MORNING: I took a Starline Tour of the many sights that define the lifestyles of the rich and famous. Some mansions that I saw in the Westwood area included Jack Benny, Englebert Humperdinck, Jayne Mansfield's "Pink Palace", Hugh Hefner's Playboy Mansion (WOW), Aaron Spelling's Mansion ( includes 56,000 sq. ft., 123 rooms, larger than the Taj Mahal). In the Beverly Hills area I saw homes of Kenny Rogers, Lucille Ball, Elizabeth Montgomery, Julie Andrews (with its beautiful life size children statues all over the yard), Madonna, Nicolas Cage, Phil Collin, Diana Ross, Steve Martin, Harrison Ford, Johnny Carson, Richard Gere, Barbara Streisand, Eddie Murphy, Michael Douglas, Peter Falk, Jimmy Stewart, Marilyn Monroe and Fred Astaire. The tour also included a drive by the Beverly Hills Hotel, Regent Beverly Wilshire Hotel, down Rodeo Drive, the Sunset Strip, and the Hollywood Sign.
-----------------------------------------------
EVENING takes us to City Walk. It is located to the right of Universal Studios entrance. CityWalk consists of several blocks of an open air entertainment mall. They provide a lot of food choices in a great atmosphere and supply an abundance of merchandising stores to browse through.
Our choice for dining that night was Karl Strauss Brewery Garden. It is tooted as the home of the finest handcrafted beers in the country with Karl Strauss's reputation as world class master brewer and restaurateur.
Our only comment is: We've Had Better!



Friday, Sept 14, 2001
After Ron finishes teaching for the day, we take an afternoon drive. It takes us to the famous historic intersection of Hollywood and Vine. We strolled down the Walk of Fame. This world-famous Hollywood attraction features more than 2,000 stars on the sidewalk, honoring celebrities in motion pictures, television, recording, radio, and theater. About 20 new stars are added each year.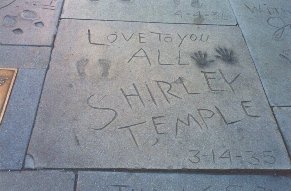 Our walk takes us to Mann's Chinese Theatre, the most famous theater in the world was build by Sid Grauman in 1927 and features the hand and footprints of many movie stars. Then there is the Frederick's of Hollywood's world famous lingerie shop. It also includes the Celebrity Lingerie Hall of Fame, featuring lingerie from Hollywood movie stars.



Saturday, Sept 15, 2001
Our first Delta flight out of Los Angeles (LAX) is to Dallas, scheduled for 6:40 AM. With the extra security in place, since the terrorist attack, we depart our hotel before 3 AM. The lines at the check in-counter are longer than I have ever see before. It takes us 3 hours to get through check in and security. We leave on time, but know we are leaving half of our passengers behind who have not made it through check in and security. The plane is only half full.
We relax, in first class, on our next flight into New Orleans (MSY). There are 24 available seats in first class and only about 5 seats including ours are occupied. Coach is not full either. It seems that it will take weeks to get the airlines going again.