Manhattan, New York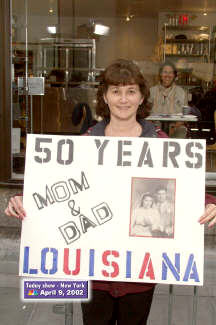 My NBC Today Show Poster

April 2002

Saturday: Arrived First Class on Delta Airlines. The Hilton had just been renovated and it looked very much like the "new millennium", very sleek and modern. We were given a room with a view, which ended up being on the side of the hotel that had the most space between it and the next building. We were able to see 2 intersecting streets instead of just an alley. Attempted to walk down to Times Square but only made 2 blocks. It was so cold I was miserable. The temp was in the 30's but the wind was blowing so strong it felt like 20 degrees.

Sunday: The weather is somewhat better. Ron and I walk to Times Square and saw all the huge billboards that it is so famous for. We rode the Subway to Battery Park. The subway was confusing at first but by the time we made our last connection to go back to the hotel, we understood it a little better. Battery Park is where you get the ferries to other islands from the South end of Manhattan. We decided to skip going to the Statue of Liberty and Ellis Island in favor of riding the free Staten Island Ferry. It cruises through New York Harbor passing close to the Statue of Liberty and Ellis Island and we were able to get a great view of the lower Manhattan skyline.
Afternoon: Went to Heartland Brewery on 6th Ave. to eat. Good food and good beer. We had a chicken club sandwich and a steak sandwich with a beer taster round. ($40)

Monday: I walked 6 blocks to the Gray Lines tour buses. Purchased a 2-day hop-on hop-off ticket ($49) and started my tour. I decided that my first hop-off stop would be the Empire State Building. I paid $9 to go up to the observation tower on the 86th floor. It wasn't as scary as I thought it would be. It was cloudy, so visibility wasn't very good, but I enjoyed it very much. As I was coming down the elevator, everyone was notified to evacuate the building. When I walked outside there were cops all over the place and they had already roped off the whole block with barricades and tape. It was total chaos. Cars were backed up for blocks, blowing horns and people like me were wondering where do I go! It seems someone left an unattended package in the building. (A big No-No since the Sept 11th terrorist attack. Such things are suspected to be a bomb or worse, since then.) There was no way my tour bus was going to get back to us any time soon, so I started my 20 block walk back towards the hotel.
While walking back I stumbled across the Public Library, which was just beginning a free 1-hour tour, so I stayed for that. It has a breathtaking entrance with marble lions and a beautiful staircase. It is huge and the building is stunning, inside and out.
Afternoon: Went to an Irish Pub for dinner & drinks at Connollys Pub. $48.

Tuesday: Stood outside the NBC Today Show with my poster, hoping to get on national TV for a split second. I did!
When I visited NY, going to the Today show was top on my list... I knew that I would have to get up early. I arrived on the scene at 6:30 but I was too late to get a prime spot along the rail, where Al Roker will come talk to you.He is often outside with the crowd, reporting on the day's weather.
On the day of my visit, hair colorist to the stars, Louis Licari of the Louis Licari Salons in New York and Beverly Hills was there. He showed off three spring hair makeovers to the outside crowd.
The Scotto family including chef Stefano Battistini of the Manhattan restaurant "Fresco" — shared their favorite potato recipes with us. After, Katie Couric passed out a dish of potatoes to us. Yes! She personally handed the plate of potatoes to me. She was wonderful with the crowd.
The Today Show's studio is on ground level at the corner of 49th and Rockefeller Center. Inside, Katie Couric and Matt Lauer tell the country what's going on; outside a crowd of people wave signs and hope to get on television as the show goes to commercial breaks.

After that was over I hopped back on the gray line tour bus. I took the complete tour without getting off. First we went downtown. From the bus, I got to see Times Square, Empire State Building, Greenwich Village, Soho and Chinatown, World Financial Center, where the Twin Towers (World Trade Center) used to be, Battery Park, Intrepid Sea-Air-Space Museum overlooking the Hudson River (could see New Jersey on the other side), South Street Seaport, United Nations and Rockefeller Center. We then toured the midtown loop, which circles around Central Park and goes into the South side of Harlem.

Wednesday: I took a taxi to Gracie Mansion. My 11AM tour of the governor's home cost $5. Not too impressed, but the park it is in was beautiful. I decided to test my legs and walk the 40 blocks back to the hotel via Central Park. The Park was fabulous. The trees were all in bloom and spring bulbs were blooming everywhere. There were hundreds of people there and I felt very safe.

Thursday: Walked about 8 blocks to the United Nations building. Cops all over, getting ready for a protest rally later in the day. The 45 min. tour ($8.50) was very impressive. Definitely a rally going on when I returned outside. Then walked to Grand Central (Station) Terminal. It is amazing in size and beautiful inside. Huge chandeliers and the ceiling have the constellations on it. After that I window-shopped on Madison Ave.

Afternoon: Ron and I walked around. Thought we might do a Cabaret show, but I didn't like the neighborhood we would have to walk through to get back to the hotel after dark. We walked around Rockefeller Center and went to the underground stores.

This week the weather fluctuated from a low of 33 to a high of 65 degrees, was mostly cloudy and always very windy.


WORLD TRAVEL HOME PAGE

View my Guestbook | Sign my Guestbook