September 11, 2001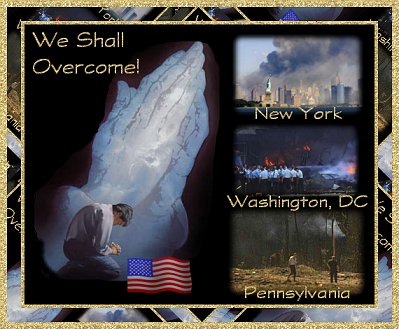 8:45 a.m. -- New York - American's Flight 11, from Boston, crashes into north World Trade Center tower.
(5:45 AM Los Angeles)

9:08 a.m. -- New York - The United flight from Boston crashes into south World Trade Center tower.
(6:08 AM Los Angeles) I wake up and find Ron in front of the TV, sitting in the living room of our Hilton Burbank hotel room. He immediately says to me, " We have some bad news", and he proceeds to relate to me what he has seen on TV. I was shocked that anyone would go this far. I immediately told him "This is like the attacks on Pearl Harbor." However, thought later, only far worse.... No, Pearl Harbor was nothing like this. This was an attack on people just sitting in their offices. My thoughts were with the kids who would never see their mothers and fathers again.

9:25 a.m. -- New York - Federal Aviation Administration orders all planes grounded. No take-offs from U.S. airports are allowed until noon today.
(6:25 AM Los Angeles)

9:41 a.m. -- Virginia - American Flight 77 from Washington crashes into the Pentagon in Arlington County, Va.
(6:41 AM Los Angeles) I think, "We're vulnerable. If anyone has that kind of will to destroy, there is nothing we can do. How can anyone hate the USA so much as to crash commercial jetliners full of innocent people into skyscrapers occupied by thousands of more innocent workers?"

10:00 a.m. -- Southeastern Pennsylvania - United Flight 93 crashes southeast of Pittsburgh.
(7:00 AM Los Angeles)

10:00 a.m. -- New York - South World Trade Center tower collapses.
(7:00 AM Los Angeles)

10:28 a.m. -- New York - North World Trade Center tower collapses.
(7:28 AM Los Angeles; Ron leaves for work. I felt useless, sitting there, watching TV. But I don't leave the TV screen for any length of time for the next 2 days. Airports closed under federal mandate. In downtown Los Angeles many courts, government buildings, and office towers are closed down.

12:13 p.m. -- Los Angeles airport evacuation begins.
(9:13 AM Los Angeles) ; The fear that Los Angeles would be next griped residents here. Reactions ranged from people leaving work, malls closing, tourist attractions closed down, some people rushed for emergency provisions, stocking up on bottled water--in case terrorists poison the water supply--as well as toilet paper, batteries and canned food. Others fled the city upon hearing of the attacks, 3,000 miles away in New York and Washington. In the end, all planes would be grounded for several days.

12:39 p.m. -- Barksdale Air Force Base, Louisiana - President Bush makes second statement, vows to hunt down and punish those responsible.
(9:39 AM Los Angeles) ; I am scared, all alone in this hotel room. I make a call to my mom's house. Not getting any answer, I phone my sister, both living in Louisiana. Then Ron calls me from work to make sure I am OK. After expressing my fears, I feel somewhat better.

1:37 p.m. -- Louisiana - President Bush leaves Barksdale Air Force Base in Louisiana for Offutt Air Force Base near Omaha.
(10:37 AM Los Angeles) President Bush is flying around the country, after being in Florida, to unknown destinations because there is reason to believe that he is a terrorist target.
An estimated 200,000 workers evacuated downtown Los Angeles before noon.

Noises seemed magnified today. A woman on the street clutched her chest and glanced to the heavens when a worker slammed a truck door. Fear rippled out from the city core with a mixture of anger, shock, confusion, and stunned detachment. There are bomb scares all over the USA today, and will be for weeks to come.